"Your beliefs become your thoughts,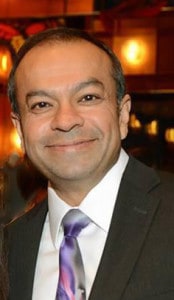 Your thoughts become your words,
Your words become your actions,
Your actions become your habits,
Your habits become your values,
Your values become your destiny."
-Mahatma Gandhi
Even though everyone wants financial freedom, not everyone will achieve it.
Hi, I'm Rocky Lalvani: the founder and the force behind Richer Soul.
A little bit about me: My dad brought me to America when I was 2. He was 42 at the time, and this was the second time that he had completely started over with nothing. He was only allowed to take a certain amount of currency with him out of India, so all he had was $25. $25 to take care of himself, me, my mom, and my grandfather.  He went back to college and my mom went to work. Moving halfway across the world already wasn't easy.  5 years after we had arrived in the USA my mom died. Now, he had to raise me as a single dad; he ended up working part time as the recession of 1973 was beginning, the worst since WWII. He had never made a lot of money after coming to America so this isn't a story about being wealthy through high income. He was able to purchase a home a few years later when mortgage rates were almost 10%. In spite of having to start over on a completely different continent, he was able to pay his house off before retiring and travel the world many times. He was always grateful for what he had, regardless of how little or how much it was. That's truly living in abundance.
So, you might ask, why am I telling you all of this? Before I answer that, think about this: Your financial mindset is developed when you are between the ages of 5 and 12 years old. It might seem quite young, but think back to when you were that age. Was money in scarcity, or in abundance? What was your family's attitude towards not only your situation, but also the situations of others who had more or less than you did? The rich: were they evil, blessed, or just lucky, what about the poor – whose fault was that?
Most importantly, was a bright future a possibility, or was it something someone like you could never achieve? Take a moment to really think about what you were taught as a child.
I'm telling you my story because I want you to know that abundance is possible. Regardless of everything that happened to my father, myself, my family, he didn't allow other people to choose his own future or the future of his son. I was able to go to college and graduate debt free. I'm glad to say that that was a foundation for me to achieve so much more. It is due in a large part to the lessons my father taught me: the main one being a strong financial mindset that embraces the present and has hope for an abundant future.
So, back to you and your story.
Are you excited on a Monday morning? It might sound like a crazy question, how could anyone ever be excited on a Monday morning? Believe it or not, there are people out there who would say yes. And you CAN be one of those people. You can love what you're doing and live an abundant life. Financial freedom isn't about flashy cars and expensive stuff, it's about loving that way you live and living the way you love.
"I highly recommend Rocky and the services that he can provide as a mentor/consultant during times of job transition, or other changes in life circumstances. Since we all go through these, it is extremely valuable to have an adviser who can serve as a resource. I have known Rocky for several years, and I have always found him to be honest and straight-forward, as well as a creative problem-solver. I have benefited greatly from the advice and recommendations that I have received from him." – Steven R.
Remember when everyone was occupying Wall Street and complaining about how the rich have all the money? It was kind of ironic because they were all doing business with the people they were boycotting. They were handing their wealth over to the wealthy and doing so because they thought they needed to.
Even though everyone was complaining about how the rich have all the money, they might have unknowingly been talking about themselves. If you make $32,500 or above, you are in the top 1% of the world. We live in a land of abundance, although we sometimes tend to forget. If you don't believe me, check it out here: How rich are you?
In spite of your abundance, are you still living in scarcity? Even though you might be in the top 1% of the world, are you still living paycheck to paycheck? Living without the funds to do the things you want, even though you are stuck in an awful desk job that is supposed to be paying you money?
All right, not everyone is in that boat. You might have it together; I'm not trying to make it seem like everyone lives in scarcity. But think about it: Are you sure that you have the right plan and that you are taking the right action for your situation? Wouldn't it feel great to be able to read a menu at an expensive fancy restaurant right to left and order what you actually want instead of going left to right (checking out the prices)? Getting rich doesn't happen overnight. There are no get rich quick schemes that actually work, sorry.
However, there are ways to approach it with small steps. It's time to start taking action instead of just watching TV shows like Shark Tank about other people living the dream that you have. You might not see astronomical results tomorrow, but you will be far happier in the long run. Too often we say that we will do it tomorrow: the diet starts tomorrow, the job search, the retirement savings account, the account to save for college for your kid(s), the savings plan for the vacation of your dreams.
Your dreams: They are possible. That vacation, that retirement, that wonderful life that you've dreamt about. Possible in the not to distant future, even. Having the ability to pay for things in cash- sounds crazy, but it is possible. Think about the freedom that comes along with not having a mortgage or a car payment. How much more would you be able to do?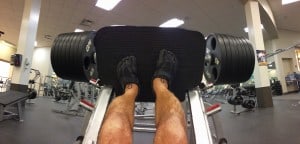 In reality, many of the things we think are hard are actually not that hard. Well, some things, like taking a small step every day. I can't really make public speaking any easier. But I can help you figure out how to make small tweaks and take some simple steps that can give you immense results over time. Its kind of similar to fitness: it took me forever to find the right system to lose 50 lbs. and get some killer muscles. (not really). Here's a hint: what everyone else is doing usually doesn't work. Getting rich, along with many other things, isn't something that will happen super quickly. It will take some effort and time. Let's face it you can't do what 90% of the people are doing and expect to be like the 10% who live in abundance.
If you're looking for someone to motivate you every single week, I'm going to suggest Oprah. I can't really help you with that. I can, however, help you in a different way. You might sort of know what to do, or maybe you don't have a specific vision in mind, but I'm guessing you don't have the correct habits or systems in place. Living a life of abundance is something you've always wanted, but never really been able to accomplish because you don't really know where to being or what went wrong. I can help you figure out the steps you need to take and put together new beliefs and thoughts that lead to actions and habits. You can also develop a new, more positive mindset that will make a tremendous difference in how you live your life. Begin your journey by emailing me to discuss your future and how to live an abundant life.
I offer an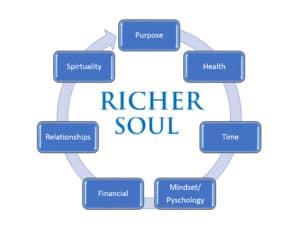 introductory 2 hour session where we will discuss your life form a holistic standpoint. We will review where you are financially and where you want to go and how it fits in with your life. Prior to the call you will need to answer some short questions via email and provide background information of your current situation. After this we will spend two hours diving deep into the issues and I will provide you the next steps to take on your path to abundance. Most people leave with a lot of homework and clear directions for the next few months. We will also have a few email follow ups after the call to make sure you are proceeding in the right direction. The cost of the 2 hour session and the follow up emails is $497.00 – After that hourly calls are available for $249.00 for those who need them.
Some people prefer to have a monthly package that allows for more follow ups and accountability to meet their goals. We have 6-12 month packages that include more frequent calls and unlimited  email follow ups in between calls. Depending on your needs packages range from $500 – $1,000 month with a 6 month minimum commitment.
Phone: 717-469-5449
Email me: Email Rocky