SWOT Analysis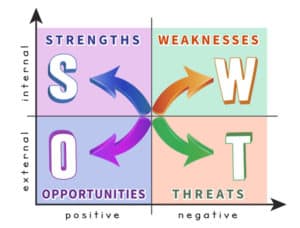 Strengths
Weakness
Opportunity
Threats
When we are sick with a serious disease we often get a second opinion to make sure we are picking the right treatment choice. Why not do the same when we are well?  One way is to pressure test your plans to remove risks and allow you to sleep better at night knowing everything is secure. The problem that occurs is finding the right person to ensure your plan is correct. Too often financial advisers are only interested in selling you what they offer and getting more of your money. How often does an insurance salesman say – "You're good you don't need any more insurance" ?
Other times we don't want to know the answer – fear holds us back from examining ourselves and our money.
Why not pressure test our plans and examine what the issues are and then create a plan that allows us to handle it all? The result is a plan that ensures a multi-million dollar nest egg and the freedom to do what you want with your life! The longer you wait the less the chance you will achieve success because you can never recover time.
Sign up to learn more at the bottom of this page
So what's this SWOT analysis all about?
There are two forces in affecting the SWOT analysis, Internal and External. The internal forces effect our strengths and weakness. The external forces provide opportunities and threats.
Strengths – What unique skills or attributes do we bring to life? Each of us is unique and has something different to offer the world. Here are a few examples:
What do people always say is your superpower?
College degree or work in a specialized field.
What skills do you have that may be of use to the marketplace?
Saving for the future.
Communication skills
Personal Network
Weakness – What are the issues that are holding you back? Facing the issues and coming up with a plan to handle the weakness allows you to overcome the issue. What traits do you have that hold you back from the success you wish to have?
Here are a few examples:
Health, does your lifestyle lead to heart disease and diabetes?
Debt
Family issues
Lack of a good plan for life.
What do you avoid doing, that needs to be done?
Opportunity – What external forces create an opportunity for you?
Here are a few examples:
Are you well placed to take advantage of the next recession when buying opportunities pop up?
Will technological change provide you a chance to benefit?
Is there a large inheritance in your future?
What unique ideas do you have that can create change?
What relationships do you have that can open doors?
Threats – Which external factors can cause your problems.Here are a few examples:
Is technology replacing your job?
How stable is your source of income going forward?
Do you have elderly parents that you may have to care for?
How is your marital and family relationships going?
Are you properly insured for home, liability, health, disability?
The SWOT plan pressure test will allow you to examine all parts of your life and check to see that your plan is going to work out! . At the end of the day you are the person who has to be most invested in what you want – no one else will ever be. Even if you don't have someone look over your plan the act of you and your spouse creating a SWOT plan will help to eliminate issues in your life and create opportunities.
The analysis provides peace of mind and also allows for small course corrections today that can result in massive results in the future. You can also uncover issues that you may not have been aware of. In addition we all have opportunity right in front of us that we may be missing out on.
What is covered?
First off I am not licensed to sell any financial products or insurance. I am not selling or recommending any particular products or investments. The SWOT analysis is an education program to examine your life and to see what your desired outcomes are and possible paths to achieve them.
We will review your cash flow and savings rate. Determine how much you need for financial independence and create projections to see if you will hit your targets. We will also examine your source of income and talk about issues that may prevent you from future earnings achievement. We can also look at creating new income streams such as real estate or a side business and how it may fit into your plan.
We will examine the risks in your life and see how well you are protected. We will review external factors that may create a massive risk for you and strategies to reduce those risks. Preventing mistakes or reducing risk is a major component of creating successful life. People with wealth are always looking for strategies to ensure they can maintain their lifestyle.
The anaylsis will require you to create your cash flow and balance sheet. You will also need to provide background information about your existing insurance plans, possible risks, and general life background. I will also need to understand your financial goals for the future and your skill sets. The process begins with a short phone to get to know each other and see if this makes sense for you.  After that you will email all the information. Then we will have a session where we review all your concerns and the information provided to make sure everything's in order. After that you may have homework to look into changes that may need to be made. Depending on the situation there may be a follow up session to tie up loose ends.
The cost for the SWOT analysis is $497 or for a limited time if you are willing to record the session and allow me to release it as a podcast episode I will do it for free! You can change your name to protect your identity.
Take the step to reduce anxiety and fear and ensure your financial future….
Email me to get started: rocky@richersoul.com or sign up with the form to get all the information.